Calendar
With Poolarserver you can define own calendars in your intranet and extranet. You can select an overview of existing calendars by clicking on "Admin" in the main menu and then click on "calendar". A list will open that shows you all existing calendars of your intranet and extranet. By default setting, there are one calendar in the intranet and one calendar in the extranet available. 
Create a new Calendar
Create a new calendar by clicking on "New" in the administrator menu under "Calendar". 
A box will open like shown in the example below: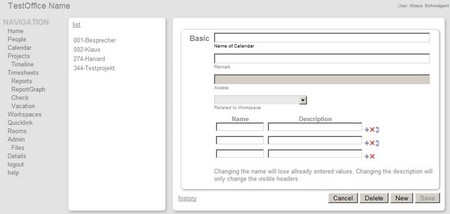 Name your calendar:
Please enter the name of your calendar. The name which you can chose by yourself, will be displayed in the main menu.
Note:
Here you can add a description of your calendar.
Access:
By default setting a calendar is visible to all users. However, you have the possibility to withdraw rights from single users. Please click on "edit" in order to change access authorization.
Assign to Workspace:
With this function you can add calendars from your extranet into your intranet.
If you click on the little black triangle on the right side of the dropdown menu all Extranets (Workspaces) added so far are visible. Now chose the workspace which calendar you would like to add to your extranet.
TIP: You can display one or more calendar views within one calendar that is useful for resource planning e.g. meeting room allocation within your company. The following figure shows a calendar with two views (allocation of a big and a small meeting room).